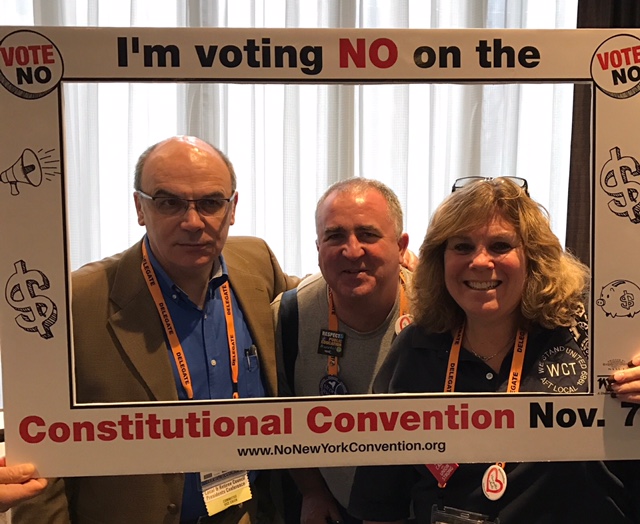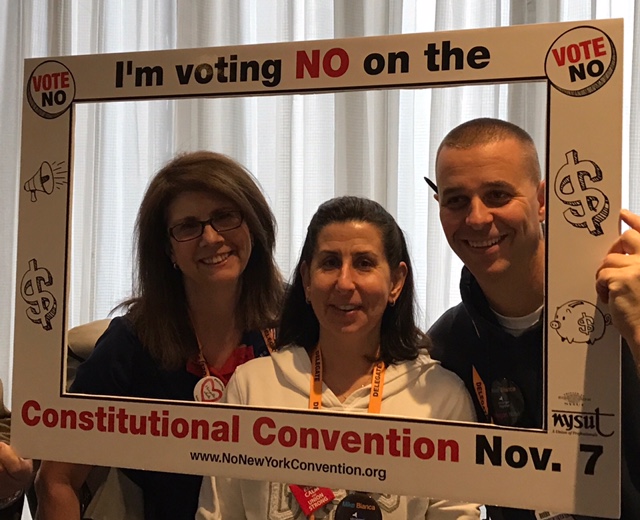 Constitutional Convention, Janus v. AFSCME: What's at Stake
Dear Colleagues,
"Shall there be a convention to revise the constitution and amend the same?" This is the question that will appear on the back of the ballot on November 7, 2017. These simple twelve words have the potential to have a huge impact not only on our members, but also on every resident of the state. When we go to the polls, we must vote NO to this question: as we are well aware of the disastrous ramifications of such a process.
If the voters approve a constitutional convention, the outcome could be catastrophic – for you – the union member and public educator. Many of the fundamental rights that our predecessors worked to achieve could be taken away by the same elected officials who relentlessly attack our profession.
Labor rights at risk:
The right to unionize and bargain collectively.
Workers' compensation that safeguard our rights if we're injured on the job.
Public pension protections! The present constitution (Article 5, §7), guarantees our pension at retirement, so we can live with dignity after a rewarding career.
Other states without such protection have made drastic pension changes with devastating results for active and retired members.
A waste of tax dollars:
It is estimated that a constitutional convention would cost the taxpayers in excess of five hundred million dollars.
The last time (1967) a constitutional convention took place, it cost the taxpayers ten million dollars and accomplished nothing.
Lawmakers can "double dip" and collect salaries and pension credits as elected officials and as delegates simultaneously.
Constitutional conventions don't have mandatory end dates- delegates keep meeting and taxpayers keep paying.
Do we trust today's elected officials to rewrite our state constitution that has served us well for so many years? Do we want politicians, misconceptions, uninformed and misled voters to threaten the fundamental rights documented in the state constitution? NO!
As NYS residents, other rights could be diminished or lost:
Environmental protections-New York State's constitution has the nation's strongest protections for "forever wild" areas like the Adirondacks and the Catskill. Special interest groups and developers could lobby to undo these safeguards.
Public education- the state constitution guarantees our students the right to a free public education.
Freedom of speech and press.
Equal protection of laws.
Freedom of worship; religious liberty
State debt limits.
State budget spending caps.
Social welfare needs.
Voting rights.
….and much more
The WCT, as a caring and responsible organization must encourage its members, our community and the citizens of NYS to vote NO on November 7, 2017 to the question: "Shall there be a convention to revise the constitution and amend the same?"
The second issue that we need to address in the spring/summer of 2018 is the outcome of the Janus v. AFSCME case, aimed to destroy labor unions. The case is expected to be picked up by the United States Supreme Court in its first term this October. Janus v. AFSCME like its predecessor, Friedrichs v. California Teachers Association poses a potential threat to the strength of public-sector unions nationwide.
A 4-4 split decision was rendered on the Friedrichs v. California Teachers Association last year due to the untimely passing of Supreme Court Justice Antonin Scalia, therefore things remained as they were. What's at stake is the principle of "fair share."
The Court, given its present composition, will most likely render a decision that could send shockwaves in every public sector of employment. It might destroy a well-balanced "eco-system" that has been effective and productive in this Country for decades.
Since the Supreme Court's1977 Abood v. Detroit Board of Education decision, unions have been allowed to collect dues from all private or public employees they represent. In New York State, the law says that if you choose not to be a union member, you must pay your "fair share" for the union's work that benefits you. Those who object don't have to contribute to political or lobbying activities, but they must contribute for the unions' efforts in negotiating higher competitive salaries, benefits, working conditions, health and retirement benefits etc. in other words, contribute their "fair share."
"Unfortunately, attacking the freedom of working people to come together is exactly what the Janus v. AFSCME lawsuit is all about. Although fronted by a lone state employee, the case is bankrolled by the National Right to Work Foundation and the Liberty Justice Center — the litigation wing of the Illinois Policy Institute — part of a network funded by billionaires and corporate CEOs who use their massive fortunes to tilt the playing field in their favor." (Roberta Lynch, executive director of AFSCME Council 31, which represents 100,000 active and retired public service workers).
Can anyone of us be part of an organization in our community without paying dues? How would the organization survive, serve or address the members' needs? Yet, this is what the United States Supreme Court will be deciding late spring, early summer of 2018. If the Court sides with Janus, the outcome could be disastrous! Our members clearly understand the importance of BEING the union and the atrocities that our brothers and sisters bear in "right to work" states, where negotiated agreements are rarely respected. As a member of an effective union, we are entitled to:
Ø Higher competitive salaries.
Ø Representation.
Ø Welfare Trust Fund benefits: dental, vision, legal, copay/coinsurance reimbursement
Ø Educational and professional support.
Ø Health benefits, paid time off and better retirement security.
Ø Legal services-due process and basic job protections, non-existent in non-unionized workplaces.
Ø A voice in safety, in working conditions and in ensuring high standards for our profession and in the services we provide.
Ø The ability to advocate for our students without fear of reprisal.
More than ever before, rest assured that the leadership of the WCT has been diligently working and is ready to address these issues. In order to protect and preserve our hard-fought benefits and constitutional rights, the membership must participate when called to action. I'm confident that by working together we can succeed and achieve our common goals. Let's have Great Expectations and a wonderful 2017-2018 academic year
In Solidarity,
Pasquale Delli Carpini
WCT President
Download: