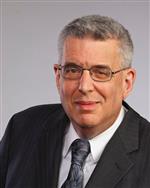 Rob Rubin
I am a resident of the Wappingers Central School District (WCSD) who is married to my wife Eileen for almost 47 years. Together we have two grown children who went through the Wappingers public schools. I am a retiree but my career was in healthcare as a purchasing agent. I worked in that capacity for 39 years, the last 15 of which were in an operating room.

I am the vice president of our school board. Additionally I am currently a trustee of the Dutchess County Board of Cooperative Educational Services (DCBOCES), a member of various WCSD and DCBOCES committees, our former representative to the Dutchess County School Boards Association (DCSBA). I volunteer at the Castle Point Veterans Hospital, volunteer at the Dutchess County Medical Reserve Corps, and am the Presiding Officer of the Private Herman Siegel Post 625, Poughkeepsie, of the Jewish War Veterans of The United States of America.

As your representative on the WCSD BoE I work within the scope of the law to keep our children and staff as safe as possible. I also work with Administration to have an effective budget that has as minimal an impact on the taxpayer as possible while maintaining the highest quality education for our students as possible. As a member of our Capital Improvement Committee I work with other committee members and then the Board of Education to present for your approval projects that are vital to the upkeep of district facilities.

My pledge now, as in the past, is to try and make myself as available to you as possible-to hear your concerns and comments. Any information that I provide to you is as forthright as possible and is only limited in nature by what the law allows to be divulged.

When my children were young others did this type of volunteer work on my family's behalf. I look forward to continuing to act on your behalf and doing this work for you.
Download:

Rob Rubin_bio.docx